February 25, 2021
Spring is in the air!
Move over Ipsy! Jades first beauty box is here!
We are so excited to announce the launch of Jade's first beauty box! Featuring some of our skincare favorites, it includes everything you need for an at home facial experience. Our skincare box includes
-a travel size Gel or Creme Cleanser
-a travel size Hydrating Lotion
-Hydrating Treatment Lotion
-Energizing Eye Creme
-Stress Fix Composition Oil
-travel size Hand Relief
-3 Dehydrated Sheet Masks
-Jade Rollerball
-Collagen Treatment Patches
and a link to our Beauty Box video to learn how to use all these amazing products! Purchase yours today for only $75 (valued at over $150.) We have a very limited number of these boxes so be sure to call us at 336-292-5555 as soon as possible to purchase yours!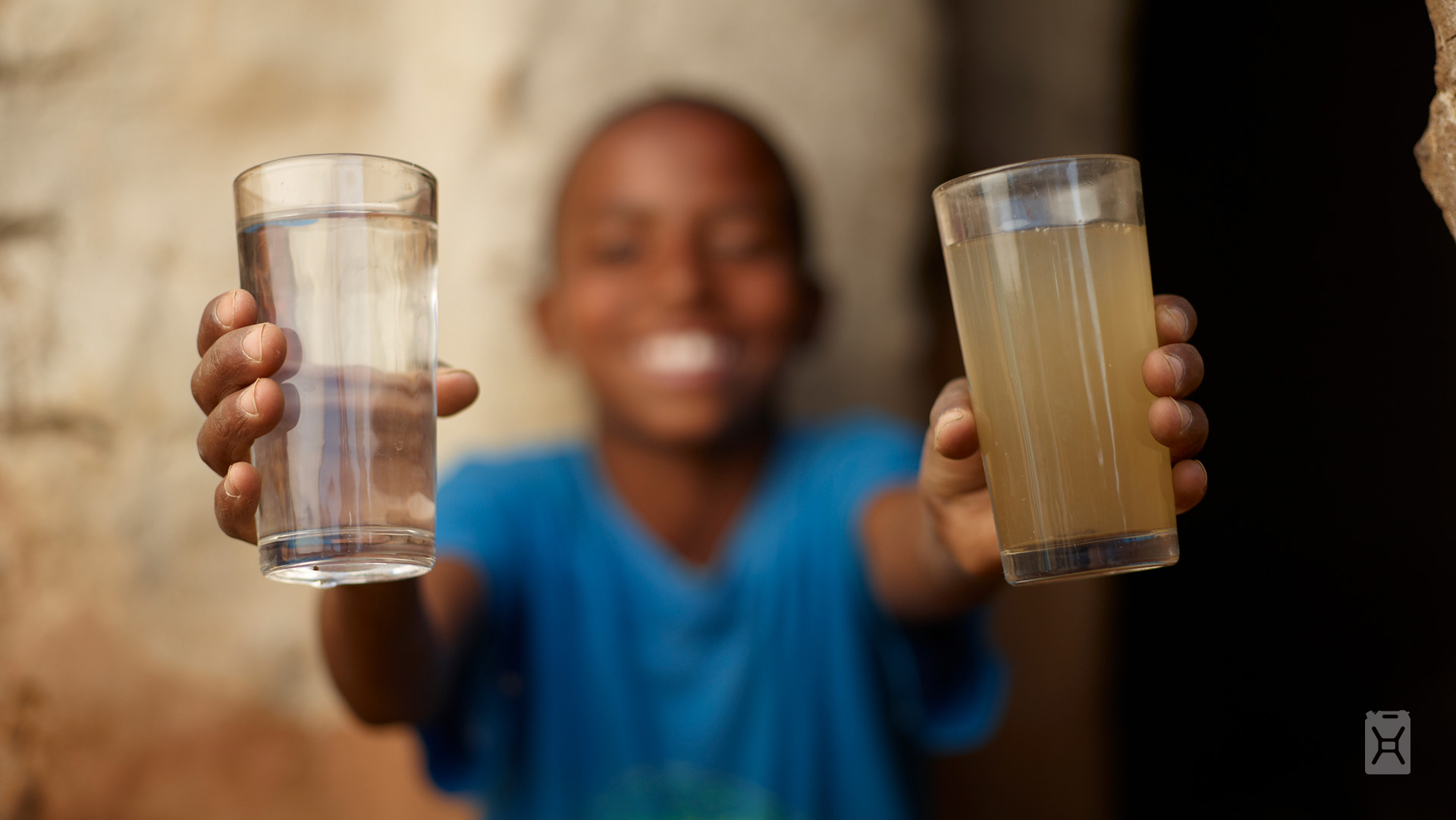 Did you know that on April 17th & 18th you could change someone's life forever??
Join us on Saturday April 17th & Sunday April 18th for our annual Cut-A-Thon for clean water. This year, we are fully partnering with Charity: Water, a non-profit organization bringing clean and safe drinking water to people in developing countries.
ALL HAIRCUTS WITH ANY STYLIST = $50
30 MINUTE FACIALS =$40
All proceeds from our Cut-A-Thon will be donated. Spots are limited so call us today at 336-292-5555 to reserve your appointment!
We are so excited to announce our partnership this month with Red Dog Farm Animal Rescue Network!
Red Dog Farm is a North Carolina 501(c)(3) nonprofit corporation formed to rescue and rehabilitate all kinds of animals! Red Dog has been known to assist 4,000 to this date and 60 different species. For every $5 you donate, you will be entered to win our amazing raffle basket with over $200 of Aveda products! Proceeds will be going towards veterinary bills and much needed supplies that will aid in caring for off-site and on-site animals.
Meet some of their sweet faces who are ready for their forever homes!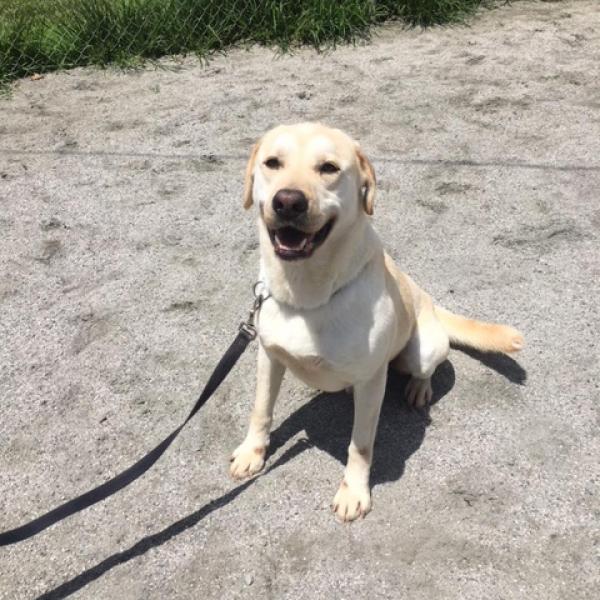 Meet Frank!
Dog- Retriever, Labrador/Mix. Sex: Male. Age: 6Y/3M.
Frank is very SMART and highly trainable. He does need someone with previous dog experience and a home with no children. Frank would do best as the only dog in the house or possibly with another female dog. He would not do well with cats. He does great for his foster mom and the rest of the family. He already knows basic commands. Frank is crate trained, house broken, knows basic commands and is ready to find his forever family today! If you are interested please fill out an application. His adoption fee is $225.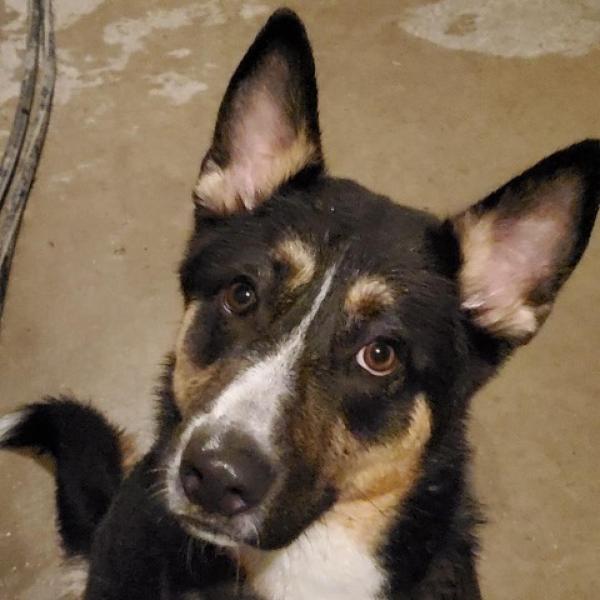 Meet Rhodey!
Dog-Shepherd/Mixed Breed (Large.) Sex: Male. Age: 1Y/3M/2W.
Meet Rhodey! He was found running down HWY 65 in Summerfield. He was not claimed after trying to find an owner. He is a young dog with energy to burn! He loves to play ball. Rhodey is sweet and loves people and pets. He does fine with other dogs that enjoy playful energy. If you are interested please fill out an application. His adoption fee is $225.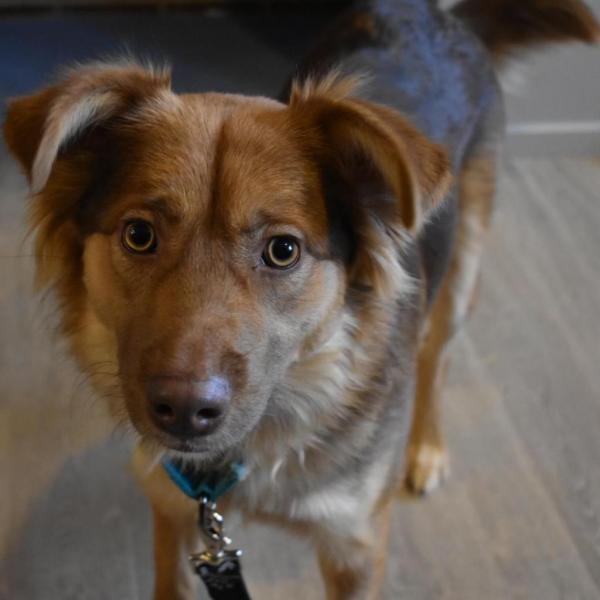 Meet Callie!
Dog- Shepherd, English/Mixed Breed (Medium.) Sex: Female. Age: 1Y/1M/2W
Callie was found as a stray. Her finder believes she could have been abused or out running for a while. She takes some time to get use to new people and places. Once she gets a chance to meet you, she is beyond sweet! We think she is an English Shepherd or Aussie Mix and is about 40lbs. Callie is good with other pups and loves to play. She has also lived with a cat before and been fine. She is so smart and we are working on crate training. Cal would do well with another confident dog to show her the ropes and a patient human to help her live her best life! We would recommend a home for her with no young children but kids 13yo and up who have had dogs before would probably be fine! She would do best ina home with a fenced yard (we do not recommend an electric fence for her.) This girl is a great dog and just needs a confidence building home to help her blossom! She is current on vaccines will be getting spayed/microchipped. If interesting in adopting, please fill out an application! Adoption fee is $225.
Meet Ranger!
Dog- Retriever, Labrador/Mixed Breed (Medium.) Sex: Male, Age: 3Y/2M/3W.
Ranger was found wandering the mountain trails by a wonderful family who took him in and gave him a place to stay while searching for his owners. Ranger joined our foster program 9 months ago! He was shy and reserved at first but thanks to his finder & foster family he got a chance to change his story. Ranger has now spent the last 3 months in basic training to learn to be a dog and is now ready for his forever home. Ranger will need ongoing confidence boosting and training. He is still shy but is worlds better than when he came to us. His trainer says his ideal home would be a single woman or a chill couple. He tends to gravitate more towards women. Ideally due to his shyness, a home without young children is best but teenagers would be fine. This home would also be quiet but still up for taking him out to play, for walks and continuing his socialization. Ranger has done well with another dog previously, but has not spent a lot of time wit other dogs since his training. The dogs he has met though, he has been friendly with! Ranger is crate trained and it is important that his adoptive home keep up with crating him as it is his safe space. He loves playing in his foster fenced yard, but wants to be with his people. He does not like storms or loud noises but has gotten better with that over the time he's been with us. Ranger LOVES toys but will destroy them. He either needs supervised toy time or harder toys that he can't rip up and eat. He has been neutered, microchipped and is current of vaccines. Ranger is a great boy who has been given a second chance at a great life! If you are interested, please fill out an application! Adoption fee $225.
Meet Sweet Tea! This awesome momma came to Red Dog from the shelter with her two babies Chili and Cornbread. Even though she is a tortie, no tortitude from this girl! She is beyond sweet and good with other kitties! If you are interested, please fill out an adoption application! Adoption fee is $125.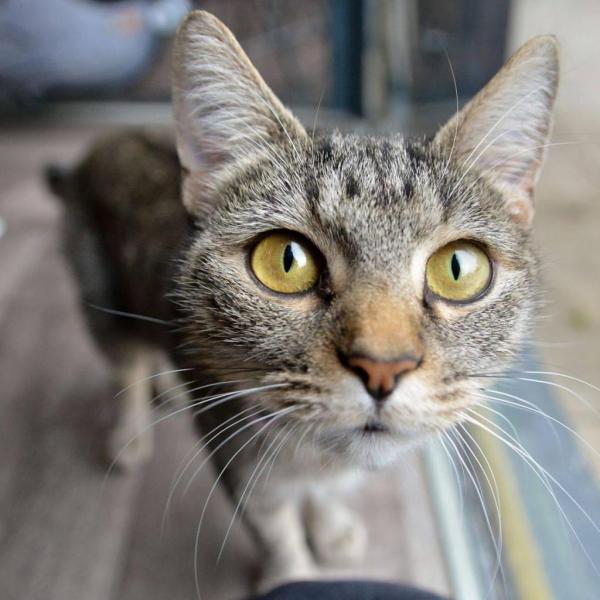 Meet Tenielle! Tenielle is sweet and loves attention. She is also good with other cats but would probably prefer to be an only. This girl has been spayed, vaccinated and microchipped and is ready for her forever home! She would really like to be an indoor/outdoor kitty. If you have a safe environment for an indoor/outdoor cat and are interested in applying, please fill out an adoption application! Adoption fee is $125.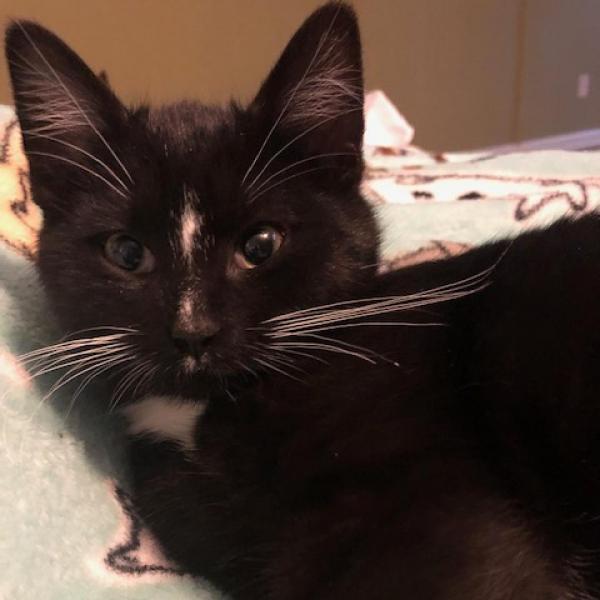 Meet Tom! Tom and his sister Isabelle were found as strays. They are both very loving, playful and good with other cats and dogs. Looking for indoor only homes for these sweet kittens. He does not need to be adopted with his sister but will need another kitty playmate. If you are interested, please fill out an adoption application! Adoption fee is $125.
Meet Chadwick! Chadwick is a lively chin just waiting to find his perfect active family! He is a young boy with lots of energy. If interested, please fill out an application! Adoption fee is $100.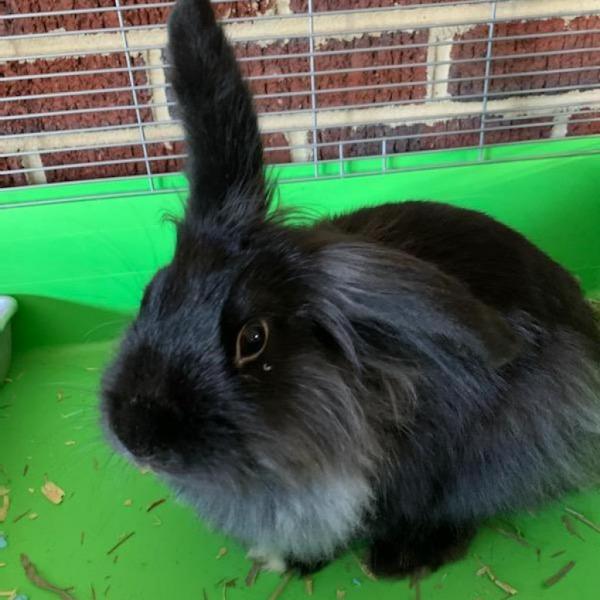 Meet Lumen! This adorable girl is the sweetest and needs a lively home for her spunky attitude. If you are interested in adopting, please fill out an adoption application! Adoption fee is $40.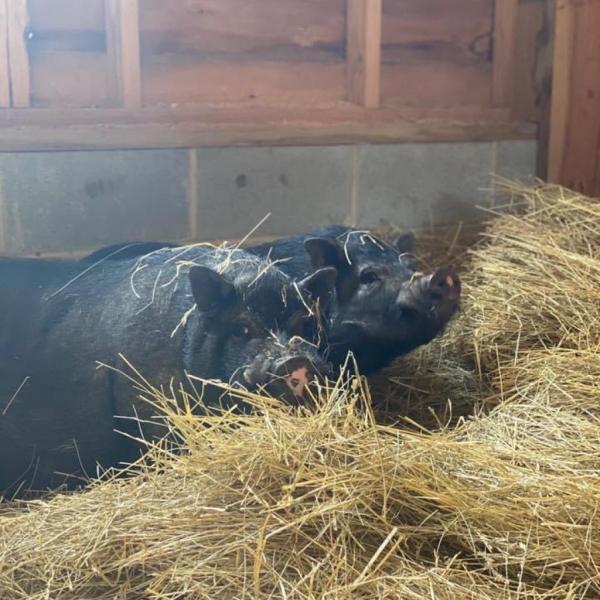 Meet Piggy Davis Jr and Frank Swineatra! Both of these boys are shy but have came a long way in just a short amount of time! They need a home that is willing to spend time and have patience with them. Their adoption fee is $300 and they need to go together. If interested in adoption, please fill out an application!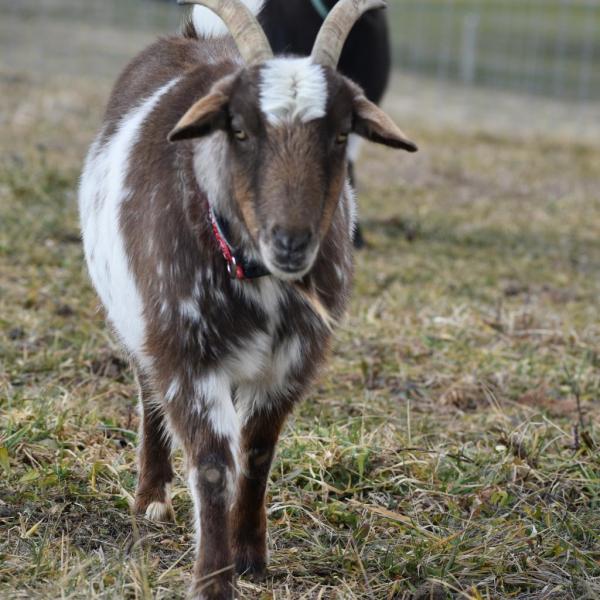 Meet Latte! Latte is a senior goat that came to Red Dog when his owner could no longer care for him. He is very sweet and loves attention. Latte does require a sturdy fence where there is no place for him to jump out of it. He needs a home with other goats but would love to find a forever home with his best friend Zeus. Latte's adoption fee is $150.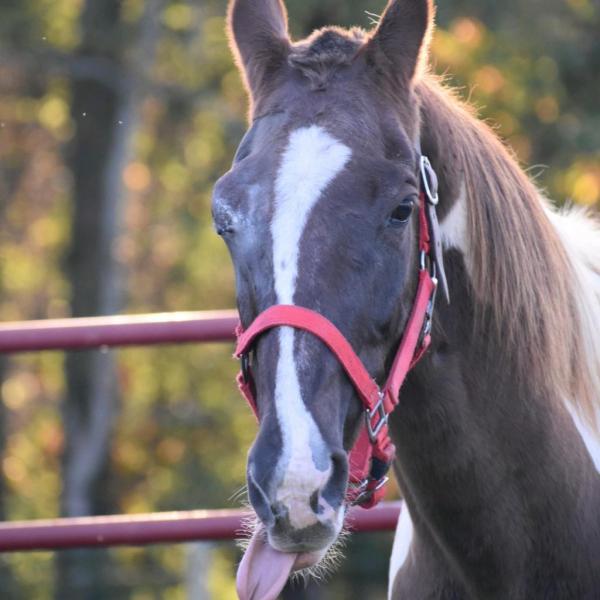 Meet Mason! Mason is a 14 year old Saddlebred. Mason came to Red Dog with an eye ulcer that was not healing with treatment and needed to be removed. Since his eye removal, Mason became a great pasture companion. Mason is not ridable and needs to find a home who understands that. He gets along great with other horses in the herd and enjoys making everyone laugh. His adoption fee is $800.
Adoption Application
http://reddogfarm.com/Adopt/Adoptable-Dogs-and-Cats-Application/
To learn more about their other amazing animals, visit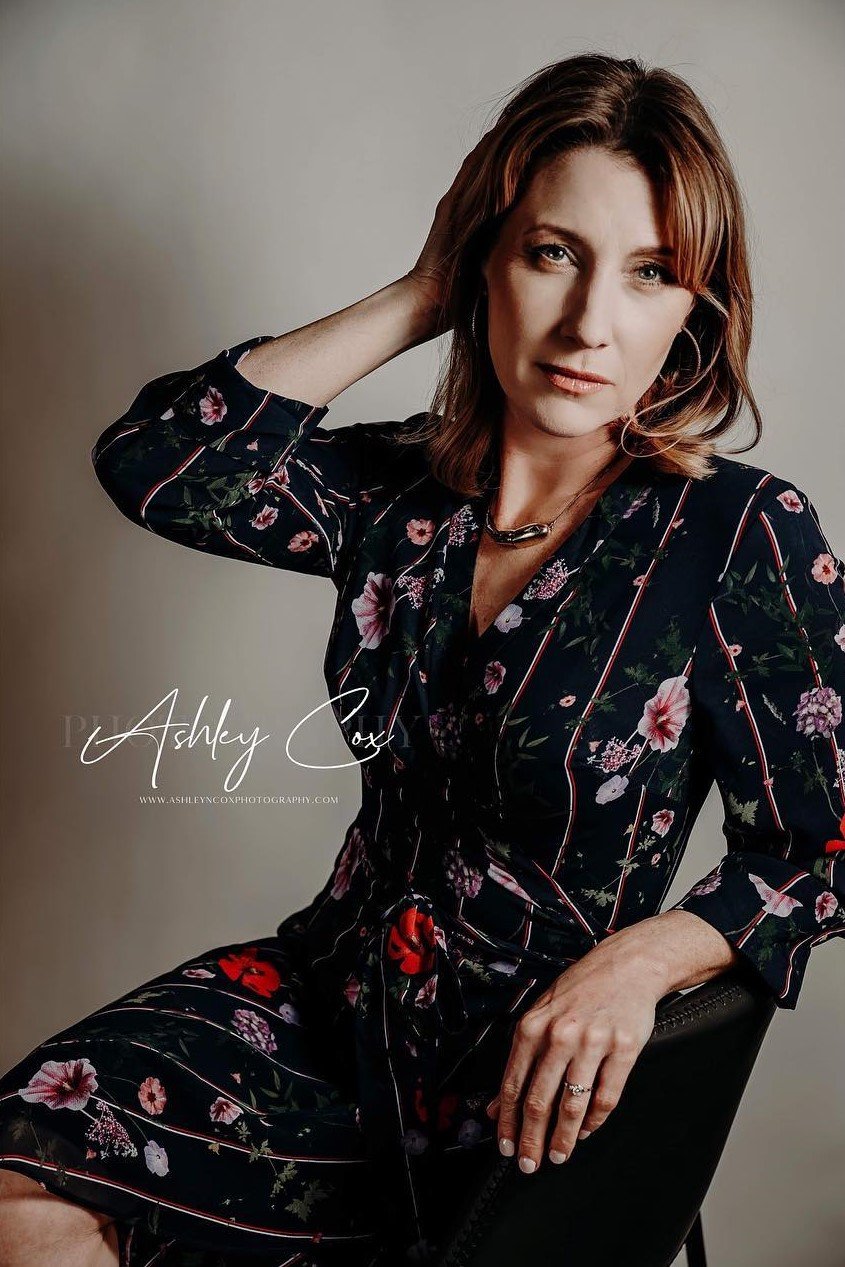 We are proud to announce the promotion of Robin Kendrick to Master Stylist! We know you are as excited for her as we are!
What does this mean? A Master Stylist is someone who has long tenure with Jade, has attended advanced education, has attained high numerical goals with Jade Aveda Salon and is in very high demand.
What does this mean for you? You are receiving the best of the best, a service from someone who is committed to continually educating themselves and who has reached an excellence in their craft of hairdressing!
Out of respect and in honor of her achievements, there will be an adjustment in pricing effective April 1st, 2021. Robin will be happy to discuss pricing and appointment options that best suit your needs at your next visit.
We appreciate you and your loyal business and look forward to seeing you soon!
The Jade Aveda Family
We want to hear from you!
At Jade, we strive for 100% guest satisfaction and we want to know about your recent experience with us! Be sure to leave a review on Facebook, Google or Listen360 or give us your feedback over the phone or in person at your next visit! We cant wait to hear from you!
Dates to Remember:
March 1st: Launch of Aveda Plus Rewards program.
March 14th: Day light savings.
March 20th: First day of Spring.
April 4th: Salon Closed.
Aveda+ Rewards:
March 1st-April 1st: Redeem for a Feed my Lips Lipstick for 2,500 points & Shampure or Rosemary Mint Travel set for 2,500 points.