October 10, 2019
Feel the Joy of Meaningful Giving!
It's the most wonderful time of the year! And we're back with the most wonderful gifts of the year!
Sip and Shop Soiree Friday November 22nd 7PM-9PM
Join us at our annual Holiday mixer for one-night-only promotions and light refreshments! These include:
Triple Pure Privilege Points
Tiered Spending Incentives
Limited Edition Aveda Gift Sets
Exclusive Raffle
Stress Relieving Rituals
What you give forward with Aveda:
Pure flowers and plant aromas
Made with naturally derived ingredients
Responsible packaging
Products made with 100% wind power
Cruelty-free, NO ANIMAL TESTING
Here's a peek at all the amazing gift sets we will have this year! ALL GIFT SETS HAVE A 20% OFF SAVINGS.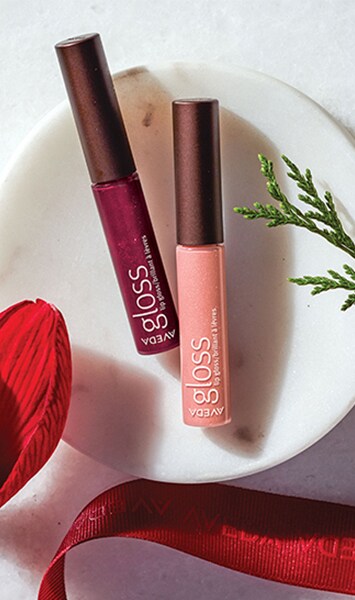 Be Curly Gift Set $66: Be curly hair care value set with be curly shampoo, conditioner, curl enhancer & style prep to help fight frizz and define curls.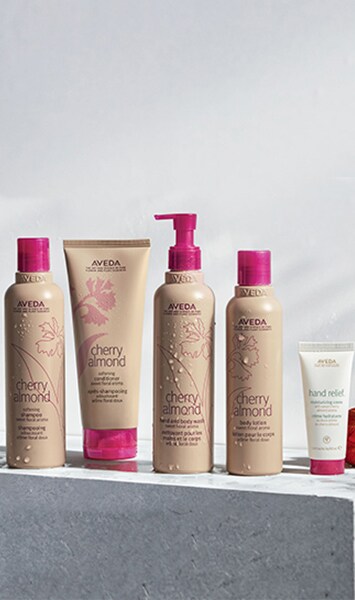 Cherry Almond Obsessed Gift Set $74: This naturally sweet hair and body care value set features Aveda's iconic sweet, juicy floral pure-fume aroma. This hair and body care value set includes a deep yet gentle cleansing shampoo, a softening conditioner, a gentle hand & body wash, a lightweight, quick-absorbing body lotion and rich hand creme that intensely moisturizes dry hands.
Shampure Calming Hair & Body Gift Set $41.50: This aromatic hair & body care value set features Aveda's beloved calming aroma with 25 pure flower and plant essences. This value set includes a shampoo, condition, travel hand & body wash and hand relief with the shampure aroma.
Self Care Duo $25.00: Travel sized Stress Fix Composition Oil and Hand Relief Moisturizing Creme.
Styling Best Sellers $21.00: Travel Phomollient Styling Foam, Thickening Tonic and Air Control Light Hold Hair Spray.
DON'T FORGET! Corporate Gifting is coming to Jade this holiday season!
Whether you're looking to gift potential clients, thank existing ones or to tell your employees they're doing a great job, Jade has you covered! This holiday season we have a variety of gifting options for everyone on your list! Gift wrapping will be provided with all orders and free delivery will be provided for all orders located within Guilford County. Check out our gifting options below!
Travel Shampure Hand & Body Wash with Shampure Lotion– $18
Travel Rosemary Mint Hand & Body Wash with Rosemary Mint Lotion– $18
Travel Hand & Foot Relief with a Lip Save– $26.50
Full size Hand Relief with a $25 Jade Aveda Gift Card– $49
Gift to yourself when you purchase! Jade Gift Card kickbacks as follows:
10% for you when you spend $100-$199.99*
20% for you when you spend $200-$499.99*
25% for you when you spend over $500*
*Pretax
Gift card option– For every $50 you spend in Jade gift cards, receive a $10 service gift card for yourself!
Contact those listed below for more information or with any questions you may have!
Kate: kate@jadelifestyle.com
Krysta: jademarketing@jadelifestyle.com
or directly at 336-292-5555
Shine Bright this season with one of our $15 Add-on Shine treatments!
Our Full Spectrum Demi+ color line is 93% naturally derived and is a conditioning blend of certified organic plant oils, including kukui, sunflower, castor and jojoba which helps improve the condition of damaged hair and proves radiant shine!
Keep up with all of our favorite Winter/Holiday trends on our Pinterest page! Link listed below!
https://www.pinterest.com/jadeavedasalon/winterholiday-2019/
Dates to remember:
We will be closed on Thursday November 28th. We will reopen for regular business hours on Friday November 29th.
Early hours on December 24th & December 31st: Both of these days we will be closing at 6pm.
We will be closed on December 25th & January 1st.
Check out our NEW Holiday Ritual Cards at your next appointment!
The holiday season is just around the corner! With that being said, traffic in Friendly Center will get busier. We do ask that you please allow yourself plenty of time to make it to your upcoming appointments on time. We do also ask for the courtesy of 24-hours notice if you need to cancel or make any changes to your appointments. Thank you!